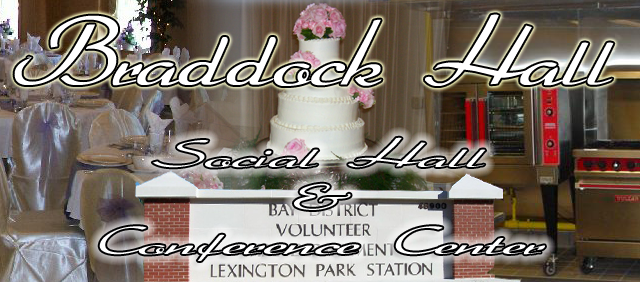 Braddock Hall Information
Our Social Hall/Conference Center features accommodations for 380 People with tables and comfortable banquet chairs, a capacity of over 700 theater-style seats for conference settings and a caterers kitchen. State of the Art Wireless Audio/Visual Technology - Including 18' X 24' Electric drop down Projection screen, Two 70" High Definition LCD Monitors for PowerPoint and Slide Show Presentations, Multiple DVD Players and a Wireless Microphone System with multiple speakers, High Speed Wireless Internet, 18 foot Full Wet and Refrigerated Bar, Covered Walk Way, Gas Fireplace, Large Parking Facility, Non Smoking Facility.
Click Here For Social Hall/Conference Center Photos
At the discretion of the Hall Committee Chairperson, Saturday afternoon/evening weddings or events, the hall can be open Friday morning for decorating and hall setup verification. All decorations, party favors, etc. must be down by noon on Sunday. The EXCEPTIONS for Friday or Sunday will be if hall is rented on either day.

Kitchen
Full Kitchen
This consists of use of the stove, convection oven, deep fryers, freezer, walk-in refrigerator, ice maker, dishwasher, 3 compartment sink, and counters.
Partial Kitchen ( No cooking equipment )
If lessee or their caterer comes with food prepared, they are welcome to use the walk-in refrigerator, freezer, ice maker, 3 compartment sink, dishwasher, and counter space.
Partial Kitchen ( convection oven for Warming ONLY )
Same as above partial kitchen except the lessee or caterer will have use of the convection oven to keep food warm. ( NO COOKING )
Click Here For Kitchen Information and Kitchen Photos

Prices
Social Hall - $1000.00
Full Kitchen - $300.00
Partial Kitchen ( No Cooking Equipment) - $100.00
Partial Kitchen ( Use of Convection oven for warming only) - $125.00
Reservation Deposit - 1/2 of Social Hall Rental Fee ($500.00)
Security Deposit - $200.00
Convention/Conference Center - Contact Patrick Stanley for special pricing - 301-863-1029
Note: Reservation Deposit ( $ 500.00 ) and rental agreement are required to reserve the hall on a specific date. The reservation deposit will be applied towards the social hall rental fee.
Extras
China Place setting and silverware - $1.50 per setting




Rental Terms
Reservation deposit and Rental agreement are required to reserve a room on a specific date.

Rental Term is for 24 Hour period beginning at 12:01 a.m. through Midnight on the day of the rental.

Price includes table set up and cleaning services.

Reservation deposit of $ 500.00 due at contract signing. All other monies including security deposit due 30 days prior to event.

The reservation deposit will be applied towards the social hall rental fee

Lessee must provide a floor plan and provide time to access the room no later than the Tuesday before the event.
Note: If fryers are used, you must provide own cooking oil and they must be drained and cleaned.
Serving and cooking utensils are not provided, you will need to bring your own.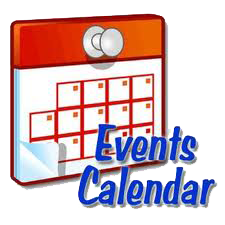 Click Here To Check Date Availability



For further information or to make a Reservation
Call 301-863-1029, Visit Social Hall Inquiry
or Email hallrental@bdvfd.org