Past Incidents
STA 3
STA 9
2014
1112
1009
2013
906
845
2012
1009
920
2011
1115
955
2010
1119
902
2009
1216
933
2008
1127
890
2007
1075
935
2006
1149
833
2005
935
756
2004
873
825
2003
918
832
2002
847
695

---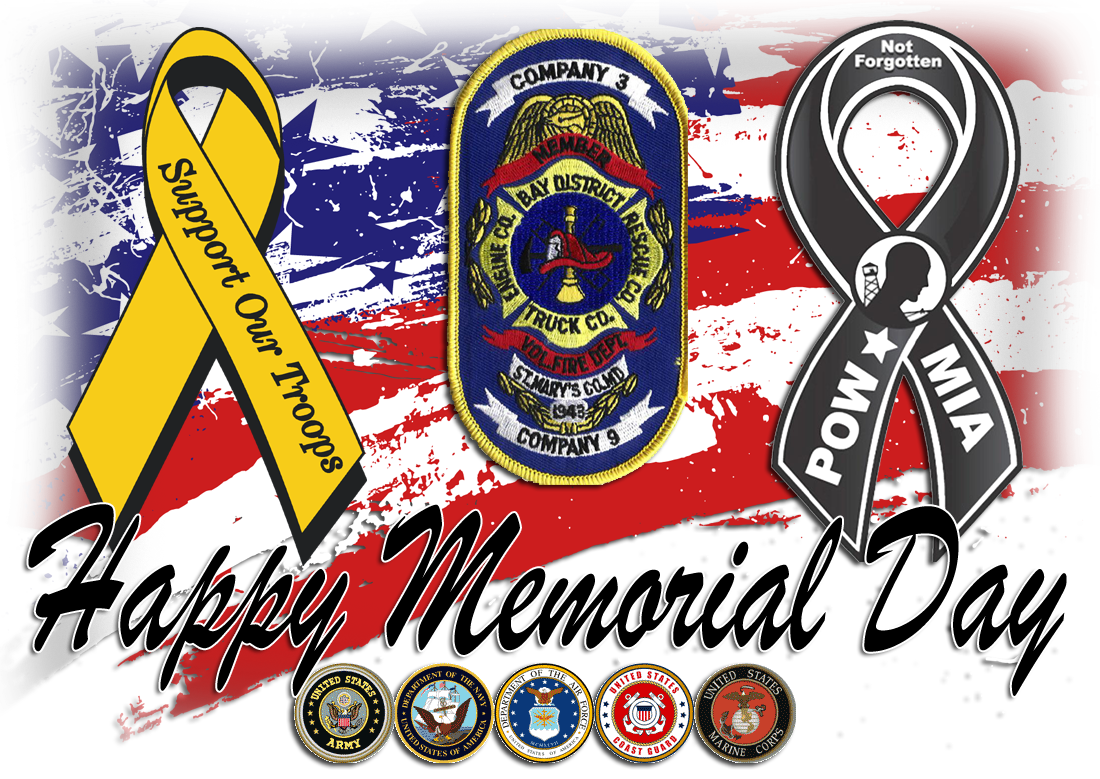 Rescue 3 Makes Grab

Bay District Volunteers, May 23

At 10:20 am Company 3 was alerted for the animal rescue. Rescue 3 responded to the scene. Once on scene Rescue 3's crew found a baby duck in the storm drain. The crew had to take up both water run off grates on each side of the road. Once crew member went down the drain and this caused the baby duck to run to the other side of the road where another member was waiting for him. Sgt. Hayden made the ... (Full Story & Photos)


Bay District Volunteers Meet A New Friend

Public Information Officer Douglas Medley, May 19

On May 20, 2015 it was time for us to return a favor to our friends from the Sanner's Lake Sportsman Club and burn down a trailer on their property that the floor had rotted away and was no longer usable. Now, I know everyone has heard me talk about our pump testing at the lake which this club lets us use all the time.

Now this is just the start of the story because after we got all the hose laid ... (Full Story & Photos)



Water Supply Officer Fairfax checking out his supply layout.


Another Cut Job for Rescue 3

Firefighter Zakary Werkheiser, May 16

On Saturday, May 16, 2015 at 1:34 p.m. Company 3 was dispatched to a Personal Injury Accident with injuries in the 20200 Block of Three Notch Road in Lexington Park. Very shortly after the response of Rescue 3 fireboard advised 2 vehicles involved with 1 trapped. Then, shortly after fireboard reported 3 trapped and Rescue 3 added Company 13 for a second Squad. Rescue 3 arrived on scene to discover ... (Full Story & Photos)


Heavy Rescue and Wagon to Valley Lee for One Trapped

Deputy Fire Chief Steve Stockwell, May 14

In the late hours of May 14th at 1036 hours, a vehicle accident with reportedly one trapped in the area of Aster Dr. and Point Lookout Rd. in Valley Lee was dispatched. SQ-3 (Sgt. Vanness) responded within seconds of the dispatch. After arriving on scene SQ-3 setup Command, relaying information to C-6 (Scrivener). Initial reports were that no one was trapped however, it was determined that a single ... (Full Story & Photos)


3rd Building Fire in 2 Days

Deputy Fire Chief Steve Stockwell, May 13

At 2101 hours members from Co. 3, Co. 13 and Co. 9 were alerted to the report of another townhouse fire at 46837 Rogers Drive. E-32 (FF Briscoe) responded to the scene and reported a "Middle of the Row" townhouse with smoke showing from the 1st floor. E-132 (FF Albert), E-91 (Sgt. Young) and T-3 (FF King) arrived shortly after E-32 and assisted with extinguishment, overhaul and scene lighting. ... (Full Story & Photos)


3/9 Alerted to Working House with Subjects Trapped in Scotland

Deputy Fire Chief Steve Stockwell, May 13

On 5/13/2015 at 1644 hours, just after returning from a MVA with Extrication in Ridge. Co. 3 and Co. 9 were dispatched for a report of a house fire at 12525 Point Lookout Road. E-33 (Sgt. Vanness), T-3 (FF Briscoe), C-3 (J. Gould) and E-93 (Sgt. Young) responded within a minute of dispatch. Further reports indicated that 3 people were trapped and unaccounted for, however this was eventually lowered ... (Full Story & Photos)


Drill Night Turns into Townhouse Fire

Deputy Fire Chief Steve Stockwell, May 11

On May 11th at 1848 hours while conducting our normally scheduled drill night, members of the Bay District Volunteer Fire Department were dispatched for a report of a townhouse fire in Co. 9's First Due area. Units from Co. 3, Co. 9, Co. 7 (Hollywood) and Co. 13 (NAS Pax River) responded. Upon arrival of one of the EMS Units, they advised that smoke was showing. E-32 (Sgt. Vanness) arrived on scene ... (Full Story & Photos)


Rescue extricates one in the 3-04 Box

Firefighter/EMT Mike Bruner, May 06

On 05/06/2015 at 09:39 Rescue 3 and surrounding units were alerted for the MVC reported to be serious on Point Lookout Road in the area of Cullison Ln. Chief 3 (Gould) and Rescue 3 under direction of acting officer (Werkheiser) responded seconds after dispatch. While en-route communications advised that SMCSO was on the scene confirming one trapped. Rescue 3 and the chief arrived confirming the same ... (Full Story & Photos)


Current Weather
FAIR
Temperature:
73 F
Wind Chill:
73 F
Wind Speed:
8 mph
Wind Direction:
150
Humidity:
57 %
Visibility:
10 mi
Sunrise:
5:46 am
Sunset:
8:14 pm
Reported
As of 5/24/2015 6:45 PM
Web Counters
Website Visitors
Since
February 15, 2004

Visitors Today
May 24, 2015

Station 3
46900 S. Shangri La Drive
Lexington Park, MD 20653

Station 9
45774 Fire Department Lane
California, MD 20619