Past Incidents
STA3
STA9
2013
906
845
2012
1009
920
2011
1115
955
2010
1119
902
2009
1216
933
2008
1127
890
2007
1075
935
2006
1149
833
2005
935
756
2004
873
825
2003
918
832
2002
847
695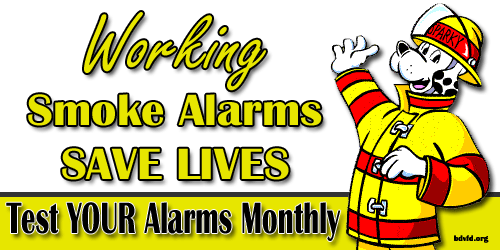 Happy Birthday
Deputy Chief Mike Fuhrman!!!


SQ-3

E-32 Week 2, SQ-3 Week 6 Progress Report for 10/17/14

Committee Chairmen Steve Stockwell, October 20

The production is moving along for both E-32 and SQ-3. SQ-3 has the cab mounted to the chassis and most of the interior work for the cab being nearly complete. The body is in the paint booth and once painted should be ready to install on the chassis. A few members of the committee will head out to Wisconsin to inspect the truck on Thursday and Friday, in which we hope to see the body just being ... (Full Story & Photos)


Leonardtown Volunteer's Bestow Honor To Past Chief

Public Information Officer Douglas Medley, October 19

October 19, 2014 was a beautiful day in St. Mary's County and as the fire side is very quiet I told myself that I know you would all be interested in a story about one of our brother departments here in the county. I and Keith Fairfax had received an invite from the Leonardtown Volunteers to attend a dedication of a new pumper/tanker Engine 14 that was being dedicated to a long time member of their ... (Full Story & Photos)



The nice looking equipment of Leonardtown.



E-32 Cab

Engine-32 Reaches the Production Line, Squad-3 Week 5, Progress Report for 10/10/14

Committee Chairmen Steve Stockwell, October 10

Well, as you can see E-32 has reached the production line and in the early stages of cab construction. The frame is more than likely also in production although in rudimentary form. Next up the cab heads for paint and the body begins construction.

SQ-3 is progressing with the Line-X'd interior, mounting of interior switches/controls and appropriate lighting on the outside of the cab. All Whelen ... (Full Story & Photos)


Making good use of the Yellow Hi-Rise

Public Information Officer Douglas Medley, October 06

October 6, 2014 drill night around the station and as we have had a pretty heavy training schedule and tonight was not going to be any different. Since the erection of our new training building the training staff has been using it most every Monday. I think the building has turned out to be more than we expected. It allows the training staff to do different scenarios covering all the aspects of firefighting. ... (Full Story & Photos)


Squad-3 Week 4, Progress Report for 10/3/14

Committee Chairmen Steve Stockwell, October 05

This is the progress report for Squad-3 for the week of 10/3/14. As you can see the frame is completed with the axles/wheels mounted and air ride installed for the rear tandems. You'll notice that the frame is Painted Yellow which in previous years prior to Truck-3 this was not the case. This is what I call a "Good Mistake' by accidentally painting the frame yellow we realized if any mechanical ... (Full Story & Photos)


Working Fire With Reported Subjects Trapped

Fire Captain Daniel Burroughs, October 02

On Thursday October 2 at 20:20 hours Companies 3, 13, 4, & 9, Truck 3, Station 39 & Company 49 were alerted for the working house fire with reported subjects trapped. Truck 3 was already on the road doing training in California when the call was dispatched and started towards the call. Chief 3A arrived first at 20:23 and found a single story home with fire showing from side C and D with exposure issues ... (Full Story & Photos)


SQUAD-3 Week 3 Progress Report for 9/26/14

Committee Chairmen Steve Stockwell, September 27

This is the progress report for SQ-3 during this week. As you can see the cab and body are moving along nicely. The Cab is finished being welded and painted, Line-X'd in the cab area as well. The body is still on the jig however the upper portion is welded with the sides and the walkway has been welded to the bottom. As you can see cutouts for the scene lighting on the top of the cab, windows, ... (Full Story & Photos)


SQUAD-3 Week 2 Progress Report for 9/22/14

Committee Chairman Steve Stockwell, September 23

The progress of Squad-3 is moving along nicely with the cab just complete and initial work being done on the body. The cab (alumnium) is ready for prep and paint, while the body (stainless steel) is being constructed on a jig. As the unit proceeds down the assembly line, similar to what you may have seen in old Ford Model "A" production line videos the unit will progress piece by piece until all ... (Full Story & Photos)


There are currently no events
Current Weather
FAIR
Temperature:
55 F
Wind Chill:
55 F
Wind Speed:
5 mph
Wind Direction:
300
Humidity:
63 %
Visibility:
10 mi
Sunrise:
7:22 am
Sunset:
6:15 pm
Reported
As of 10/24/2014 10:13 AM
Web Counters
Website Visitors
Since
February 15, 2004

Visitors Today
Oct 24, 2014

Station 3
46900 S. Shangri La Drive
Lexington Park, MD 20653

Station 9
45774 Fire Department Lane
California, MD 20619