Past Incidents
STA 3
STA 9
2015
1115
955
2014
1112
1009
2013
906
845
2012
1009
92
2011
1115
955
2010
1119
902
2009
1216
933
2008
1127
890
2007
1075
935
2006
1149
833
2005
935
756
2004
873
825
2003
918
832
2002
847
695

---


Better shot of the front of building as I walked closer. Took me a while. lol

Sprinkler Activation at Pegg Road Senior Apartments

Public Information Officer Douglas Medley, February 09

It was 11:28 a.m. when the tones dropped for a commercial building fire at 21895 Pegg Road at the Lexington Park Senior Citizens Apartments. Now there are times that you will run a commercial fire alarm for buildings and you really don't think too much of them because it happens so often. However, when the E.O.C. (Emergency Operations Center) pull the call out they dispatched it as a building fire ... (Full Story & Photos)


Volunteers Run 2 Fires in Valley Lee During Storm

Fire Lieutenant Daniel Martin, January 28

On Saturday 01/23 at 5:17 pm while Winter Storm Jonas was in full swing in the Southern Maryland region, Communications alerted Companies 6, 3, 9, NAS 13 and 1 to the 17000 block of Piney Point Rd for the House. Engine 61 was first arriving finding a 1 story residence with fire showing on the alpha side of the residence. Tanker 33 (SGT Sewell) was next arriving stretching a second line into the residence ... (Full Story & Photos)



Shore Drive House


Rescue 3 Handles Extrication in California

Bay District Volunteers, December 03

At 0928 Companies 3, 9, and 7 were alerted for a MVA reported one trapped. Rescue 3, Squad 6 (filling-in for Company 9) and Engine 132 with Hazmat 13 responded shortly after time of dispatch. Squad 6 arrived on scene to find one vehicle off the roadway with one trapped. Crews off of Squad 6 started a side blow-out the drivers side. Rescue 3 arrived shortly after and started a side blow-out on the ... (Full Story & Photos)


Volunteers Run Ridge House Fire

Fire Lieutenant Daniel Martin, December 02

At 09:26, Tanker 3 & 9 and Truck 3 responded to the 16000 block of Three Notch Road for the reported House on fire. At 09:33, Chief 4 arrived on scene finding a single story residence with a basement with smoke showing from the roofline. Engine 141 was first to arrive laying a line from Holland Manor Drive on the Bravo side of the residence and stretched a 1.75 handline to the front door. Tanker 44 ... (Full Story & Photos)

Calvert County Boat Fire

Bay District Volunteers , November 29

At 15:05 Sunday St Mary's Companies 9, 3 and 7 were dispatched mutual aid to Solomon's Island for a reported boat fire across from the Tiki Bar. Within a minute of dispatch Engine 91, Tower 9, and Engine 33 responded along with Hollywood Engine 73.

Solomon's Engine 31 arrived on scene with a working boat fire and took their own hydrant. They deployed an initial attack line and Engine 91 arrived ... (Full Story)




Volunteers take in Hollywood House Fire

Bay District Volunteers., November 25

At 00:24 Tankers 9 & 3, Engine 91 and Squad 3 were alerted to the 23000 block of Mill Pond Road for the reported House on fire. At 00:32 Fire Chief 7 arrived on location finding a 2-story single-family home with fire showing from the "Delta" side of the home. Tanker 93 and Engine 73 arrived on location. Engine 73 laid supply line from the driveway where tanker 93 completed the lay. Engine 73 and 93's ... (Full Story & Photos)


Volunteers Take in Daytime Room and Contents Fire

Firefighter/EMT Mike Bruner, October 02

On 10/01/2015 at 12:57 Company 3 and surrounding units were alerted to 21435 Indian Bridge Rd for the reported working trailer fire. Engine 132 arrived at the first entrance to the trailer park laying a supply line. Engine 32 arrived next and laid a supply line from the second entrance Engine 32's crew deployed an 1 ¾" attack line while Engine 32's officer assumed the attack group supervisor. Engine ... (Full Story & Photos)


Firefighters from Bay District Make Quick Work of House Fire

Public Information Officer Douglas Medley, September 22

It was early in the morning when most everyone should have been in bed and the volunteers of Stations 3 and 9 were doing just that when the tones dropped. Don't have to tell you other firefighters but when you get a call at 2:30 a.m. in the morning and fireboard tells you that they have a report of a working fire your blood pressure rises as you gear up and mount up on the engine to respond.

The ... (Full Story & Photos)



ENGINE 31 WITH THEIR LAYOUT TO HYDRANT.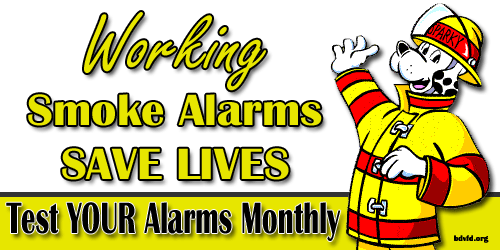 There are currently no events
Current Weather
FAIR
Temperature:
23 F
Wind Chill:
23 F
Wind Speed:
mph
Wind Direction:
Humidity:
42 %
Visibility:
10 mi
Sunrise:
7:01 am
Sunset:
5:38 pm
Reported
As of 2/11/2016 4:55 AM
Web Counters
Website Visitors
Since
February 15, 2004

Visitors Today
Feb 11, 2016

Station 3
46900 S. Shangri La Drive
Lexington Park, MD 20653

Station 9
45774 Fire Department Lane
California, MD 20619