Past Incidents
STA3
STA9
2013
906
845
2012
1009
920
2011
1115
955
2010
1119
902
2009
1216
933
2008
1127
890
2007
1075
935
2006
1149
833
2005
935
756
2004
873
825
2003
918
832
2002
847
695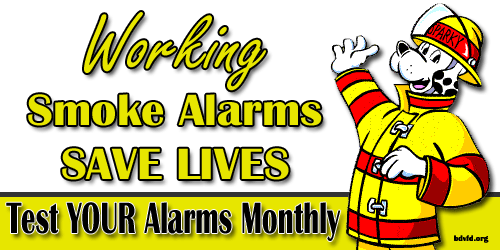 Gail Kropp and Jamie Olson two gals who are associates and always available to provide rehab for the guys.

Annual Rite Of Fall "Pump Tests"

Public Information Officer Douglas Medley, September 13

Could it be possible? Another year gone by and it's time for us to make our way down to the old fishing hole for our annual pump tests. At least this time Dr. Fairfax, our water supply officer, let us do it in the fall of the year. No arguments from any of us on that decision. So we all gathered at our favorite café Linda's for a hearty breakfast before loading up all the equipment needed for ... (Full Story & Photos)


SQ-3 Progress Report Photos for the week of 9/12/14

Honorary Member Steve Stockwell, September 12

Well it seems we have received the first construction photos of Squad-3 via Pierce. It appears as the cab is nearly finished after being setup on the jig for about a week or so. The cab is an all aluminum cab and the body will be stainless steel due to the longevity of service for the truck. It is unknown if the chassis is being constructed so please stay tuned for news updates.... (Full Story & Photos)

Squad-3 and Engine-32 Update

Honorary Member Steve Stockwell, September 12

Since my last report we (the committees) have been moving along. The committee has received the final drawings for our new 2014 Pierce Heavy Rescue and construction should have started this week on the Cab and Chassis. Once those pictures are available from Pierce I will continue to provide updates on how construction goes. Currently the Squad Committee is waiting on Labeling and Striping Drawings ... (Full Story)




Volunteers Handle Pedestrian Struck

Fire Sergeant Daniel Martin, September 12

On 9/11/2014 at 19:39 units from Company 9 and Company 3 were alerted to the intersection of Town Creek Drive and Dent Drive for the reported subject struck by a vehicle. Chief 3 was first arriving finding a subject struck and trapped under another vehicle. Engine 91 arrived and deployed cribbing and started tending to the patient. Squad 3 arrived on scene and deployed airbags to free the patient ... (Full Story & Photos)

Sunday Evening Brings Rv Fire

Fire Captain Daniel Burroughs, August 17

On Sunday August 17, 2014 just before 18:00 hours Station 9 was alerted for a vehicle fire. A couple minutes' later Hollywood station 7 and Solomon's station 3. The first unit on scene was Utility 9 with Sergeant 9B reporting an RV almost fully involved. Engine 34 (Solomon's) arrived and pulled an attack line and started fire suppression. Communications advised that the driver was unaccounted for ... (Full Story & Photos)


Late Night Motorcycle Accident Leads To Flyout

Fire Captain Daniel Burroughs, August 16

On Saturday August 16, 2014 at 21:20 hours Engine Company 9 & Squad 3 were dispatched for a motor vehicle accident on Rue Purchase Road. Squad 3 arrived to find a motorcycle on the ground without the rider in sight. Engine 91 arrived moments later followed by Chief 9B who established the command. A citizen was on the scene that flagged down the emergency responders and showed where the rider had came ... (Full Story & Photos)


Early Morning First Due Fire

Firefighter Zakary Werkheiser, August 05

At 0347 the Bay District Volunteers were alerted for a house fire at 21652 Enterprise Drive. Engine 31 arrived on scene with a 3-story wood frame dwelling with the attached garage fully involved with extension to the attic and fire through the roof. Engine 31's crew quickly deployed the front bumper line and cross-lay and started exterior operations. Engine 132 arrived shortly after, picked up the ... (Full Story & Photos)


Station 3 catches fire in Westbury

Public Information Officer Douglas Medley, July 24

It's summertime in good old Southern Maryland and the tones starting dropping at 1318 hrs. and when they are setting off more than two at a time you know that it's going to be for something more than a smells and bells call and that is just what we were in for. The fireboard was putting out a call for a reported house fire in the Westbury Subdivision at 21390 Edgar Way. Stations alerted were 3, ... (Full Story & Photos)



Quick knock by the crew from station 3.


There are currently no events
Current Weather
FAIR
Temperature:
75 F
Wind Chill:
75 F
Wind Speed:
6 mph
Wind Direction:
140
Humidity:
57 %
Visibility:
10 mi
Sunrise:
6:50 am
Sunset:
7:04 pm
Reported
As of 9/20/2014 5:20 PM
Web Counters
Website Visitors
Since
February 15, 2004

Visitors Today
Sep 20, 2014

Station 3
46900 S. Shangri La Drive
Lexington Park, MD 20653

Station 9
45774 Fire Department Lane
California, MD 20619