St. Mary's County
Fire and EMS
LIVE Scanner Feed
Listening:

Past Incidents
STA 3
STA 9
2016
1249
979
2015
1115
955
2014
1112
1009
2013
906
845
2012
1009
920
2011
1115
955
2010
1119
902
2009
1216
933
2008
1127
890
2007
1075
935
2006
1149
833
2005
935
756
2004
873
825
2003
918
832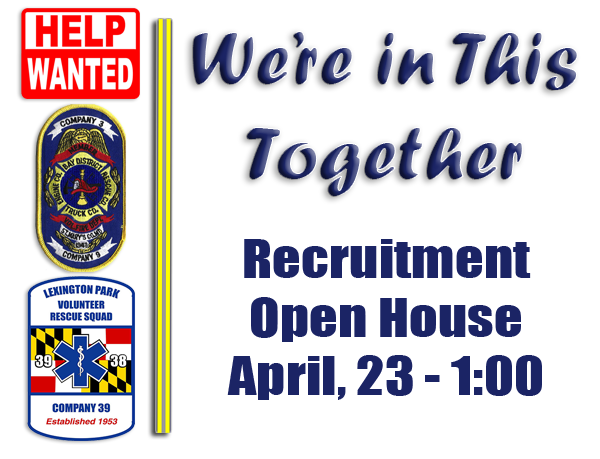 On April 23, 2017 at 1:00 pm the members of Bay District VFD & Lexington Park VRS will host a joint recruitment open house for the community. The open house will be at Bay District fire station 3 located at 46900 S. Shangri La Drive in Lexington Park. The open house will be held at the new training facility behind fire station 3 (Across from the Lexington Park VRS building). The open house will begin with a demonstration of an automobile extrication and will also feature a live fire scenario in the training facility. The open house will also feature tours of the training facility, the fire house and the rescue squad facility.
Come by and meet your VOLUNTEERS and learn about how we do things, and how you can help. We will have members available to answer any of your questions. All departments in St. Mary's County will also host an open house for recruitment on the same day. ALL fire & EMS departments in St. Mary's County are VOLUNTEER and always looking for help. All departments have positions available that could use talent from anyone, if you do not want to actively respond to emergency calls we still have a place for you! We are always in need of members to perform administrative tasks, participate in fire prevention, and assist with fund raising.
Stop by on Saturday, April 23 and see what we do! We will have light refreshments, fire prevention materials and applications. As always you can fill out an online application on our website – www.bdvfd.org.
Web Counters
Website Visitors
Since
February 15, 2004

Visitors Today
Dec 12, 2017

Station 3
46900 S. Shangri La Drive
Lexington Park, MD 20653

Station 9
45774 Fire Department Lane
California, MD 20619